When my son was 4 I started questioning "How do you teach reading to a new reader?!?"
Introduce the alphabet, phonograms, the concept of sounding, study sight words, get some easy readers and keep going from there? With the basic concepts and enough books, a reader will learn to read when they are ready, right? While that may work for some kids, for my ADHD, potentially dyslexic and/or dysgraphic son, it did not.
All About Reading has changed the way I think of and approach teaching reading this year.
At 7.5, he is still sounding out a lot of words, has trouble remember sight words, guesses, and fatigues easily. But, instead of struggling along, easy reader after easy reader, wondering why he is "not getting it", later discovering he has "swiss cheese" knowledge with huge gaps in his abilities, and starting over with another (temporarily) more exciting book or program, I can now facilitate a 10-15 minute reading lesson, confidently put it away, and stop second guessing myself while running down the rabbit hole of "what if", "now what?" and "who am I to…?".
With All About Reading Level 1, I know we are making impactful progress—that we are building the essential foundations we struggled to do in earlier years.
Before I dive into our experience with All About Reading I want to say not all readers and not all facilitators (I'm assuming that's you, reader) are the same. So, only introduce reading to your student when you feel ready, whether by the child's desire or necessity. Go at whatever pace works… for you and don't fall victim to, as hard as it is sometimes, the comparison trap.
Disclaimer: This blog post contains affiliate links which means I may earn a commission should you click through and make a purchase. This in no way impacts your cost nor my recommendation of any products or services.
All About Reading: The Back Story
At 9 years old, Marie Ripple's son was diagnosed with severe dyslexia. Experts told her he would never be able to read or spell. But, it wasn't that her son didn't have the ability to read; he simply hadn't been given the right tools. This realization and her background in language arts education led Marie to create the programs that thousands of parents and children have come to know and love: All About Reading and All About Spelling.
Based on the Orton-Gillingham approach, these multisensory programs teach through a logical sequence that leaves no gaps in the learning process. Best of all, these methods benefit all types of learners—not just those who struggle.
Why I switched to a dyslexic/dysgraphia focused Reading program
We started this year with a few different curriculum and a tutor, however, the more we progressed, the more my son resisted reading, the more I dreaded opening our reading lessons due to overwhelm, and the more we began to suspect dyslexia or dysgraphia. My son has not been officially tested, though I have spoken with a few reading specialist and psychologist. With each conversation, my conclusion is the same. If he has a reading disability, a specially designed approach will be needed. If he doesn't, then that same approach will simple help him learn to read.
I spent munch time researching dyslexia programs (which also work well for ADHD kids!) and finally decided to try All About Reading which is mastery based, something I realized I needed for my son with poor working memory. Although it's not what his brain wants, it's what his brain often needs—instruction that aims for mastery before moving onto the next skill.
All About Reading: Materials
All about reading levels come with a complete package and a Reading Interactive Kit. We did not buy the Reading Interactive Kit because it felt somewhat redundant to what we already had at home but, in hindsight, I think it would have been useful to purchase. (Actually, I still might, once we resettle after the summer.)
Complete Package
All About Reading Color Edition. Most people choose this option, which includes one Teacher's Manual, one Student Packet, and all three readers. You'll also need a Reading Interactive Kit.
Reading Interactive Kits
Deluxe Reading Interactive Kit Includes the Basic Reading Interactive Kit, plus Reading Review Box and Reading Tote Bag.
Basic Reading Interactive One-time purchase, used with all four levels. Includes Letter Tiles, Magnets, Phonogram Sounds App, and Divider Cards.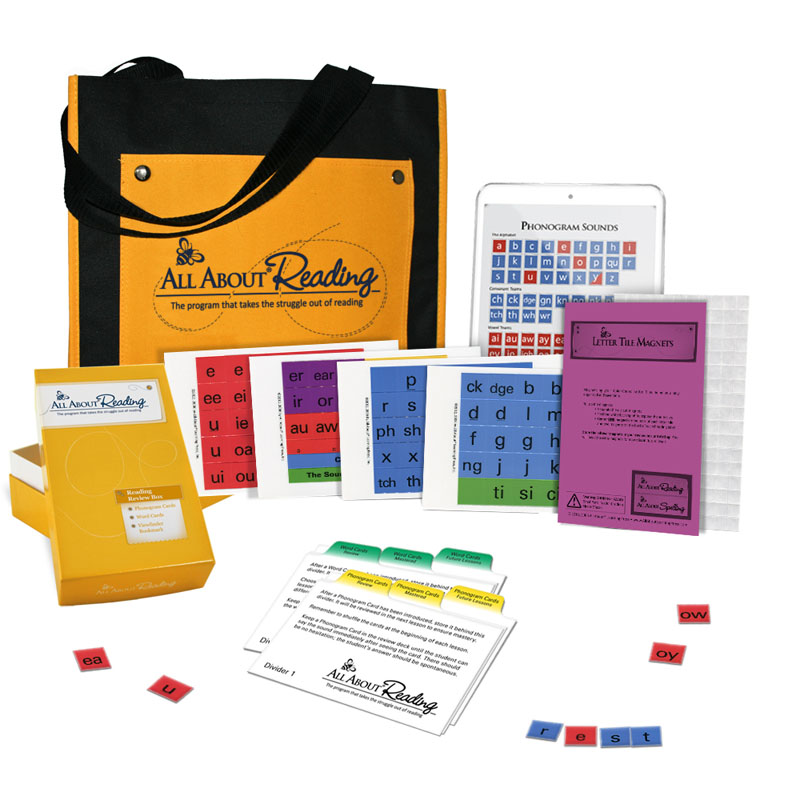 The Teacher's Manual
There is a teacher manual for each level and they are wonderfully laid out. If you have no idea how to teach reading, all you have to do is follow the easy scripted lessons in the AAR teacher manuals.
The Student Activity Book
This contains the activities you'll do during the lessons; games, word flippers, and more. It also includes a progress chart where your child can mark off each lesson as it's completed, the fluency practice sheets, and a completion certificate.
Letter Tiles
We haven't purchased these (yet) but they seem very beneficial and add an additional layer of hand-on manipulatives. We currently use our Scrabble Slam, Bananagrams, or felt letters depending on our mood.
Early Readers
These are beautifully crafted with wonderful illustrations and engaging stories. Each hard bound reader contains several short stories which have all been developed based on the words the student is learning in the lesson and previous lessons.
Phonogram and Word Cards
These are fairly straight forward as they are basically just flash cards. The phonogram cards are simply the sound of the letters. On one side of the card is the letter and, on the back is all the ways the letter can be said along with which lesson the various sounds are introduced.
Dividers divide the cards into and the lessons tell you which cards to review when.
All About Reading: Benefits (AKA: Our Favorite Things)
Easy to use
Each lesson takes about 20 minutes and then another 20 minutes of reading to your child is suggested. While it's not completely hands off, and you do have to work through the lessons with your child, it's pretty open and go and easy to manage with little minimal amounts of prep work, if any. AAR takes the guess work out of teaching a child to read.
It covers everything and It works
There are five key components of reading—and AAR teaches all of them thoroughly. These five components are:
Phonological Awareness

Phonics and Decoding

Fluency

Vocabulary

Comprehension
This is a really comprehensive, well thought out program that really understands the specific needs of struggling readers (though all readers will benefit from the program.)
It's introduces one concept at a time—There are no gaps in the program
AAR teaches a student everything he or she needs to know about reading so no guessing is required. Each new concept builds upon the previous one, and no steps are skipped. The concept in each lesson is simple, straight forward and easy to understand, leaving only one things to process at a time.
It does a fantastic job of facilitating review and repetition
Prior to AAR, I struggled to get my son to review the basics. In hind sight, we were both too eager to move on, checking off our learning because he "understood" the concept. The reality is, repetition, will insanely frustrating to implement, was all the more important given his ADHD brain and low working memory. While it may take the neuro-typical brain 100 repetitions, it takes the ADHD (and reading challenged) brain 300 repetitions. (This is not exact data, just more of a point-maker.)
AAR does a fantastic job of reminding the teacher and learner of the importance of repetition. They even do so in ways that remove the tedious nature of the activity. My son loves how seeing how many word cards he can move from his "review" pile to "long-term" pile on any given day and, a lot of the review comes in the actual reading of stories.
AAR Readers are my favorite
No more second guessing reader levels each time my son finishes an early reader! The AAR readers, which consist of several short stories bound together in a high-quality hardback book, are a lot of fun and perfectly designed at his level. Learners don't attempt to read stories until they have learned all the words (or rules for sounding the words) in the story. The pictures are delightful and the stories manage to hold a decent plot, despite the simplistic reading level. They are easy to follow and designed so that no word comes as a complete surprise to the reader.
Their "Go Ahead and Use it" Guarantee
AAR is so confident in their program (and have AMAZING customer service), that if you purchase from them and decide it's not for you, for up to ONE FULL YEAR, you simply send the package back (in any condition) and they will refund your purchase price. No questions asked. I mean, with that kind of guarantee, why NOT try it out?
All About Reading: Drawbacks and Considerations
Price
I'll admit, since we had already purchased other programs, it took me a while to build the confidence to put down the money for this program. If it worked, I knew it would be worth it but the $149.95 for the Complete Package (teacher's manual, student package, and three readers) plus the $21.85 for the interactive kit (letter tiles, magnets, phonogram sound app, divider cards) was hard to swallow. Less than 2 months into the program, I knew I had made the right choice and the price faded into the background. While there are other, less expensive reading programs out there, AAR is by far, the most comprehensive, clearly laid out and is worth every penny.
Reading Length
Some of the lessons and stories are a bit long for my son, and he asks to stop part way through. Sometimes we do, other times we try buddy reading, taking turns reading a sentence. He loves to put his sticker on his reading progress chart but sometimes it take more than one sitting to complete a lesson which is why I will help him out a little so he can get the "reward" of his hard work. One days when I do this, I make a point of reviewing or redoing the lesson another time saying "let's lighten it up a bit today and do a lesson you are more familiar with." In this way are still getting the review needed.
While there are definitely times where he (and I both) wish the story was shorter, I also appreciate that the longer stories are pushing him slightly and helping him build his stamina and fluency. When it becomes overwhelming, we can always modify our approach.
Activities Can Sometimes Be a Distraction
Initially my son loved the activities in the student workbook and would get annoyed on days when we didn't have any. What I noticed overtime, however, was that oftentimes, the activities became a distraction, taking away from the actual reading. This is probably not the case with most learners I imagine but, for my very "grabby" ADHD child, the "idea" of the activity became a bit of an obsession, creating more energy around the set-up or point of the game or potential modifications he could create rather than actually reading. Lessons were taking a long time, only for him to fatigue when it came to to the fluency But still, there are times when I pull a few out, particularly
Lots to travel with, if you are on the go
We are currently in transition, on a two month summer trip with a couple of location moves during the short period. I am known as a minimalist traveler so, figuring out what curriculum to take was a bit of a stressor point. This was made doubly hard by the fact that we will be completing level 1 and moving onto level 2 while away. In the end, I decided it was worth bringing our materials. This was made slightly easier by the fact that we don't have the word tiles and have been using our Scrabble Slam cards instead.
Also, Here is a great article from AAR with tips on how to organize everything so it works effortlessly.
My son's (honest) opinion of All About Reading
At the beginning of the 1st grade school year, I confidently purchased a slew of easy readers, set up Montessori reading activities, and bought a few curriculum to aid in teaching reading. What I soon found out is, my son was not going to "catch on" right away and my approach was both labor intensive and confusing, leaving holes in our learning. To boot, my son was resistant to reading lessons and often fought the process, sometimes, leading to anxiety. One day he asked if I could find him an Outschool tutor to "suppliment" the reading we were doing at home. For 6 months, he worked with a tutor but there was still a lack of confidence for the two of us, in his ability to progress smoothly.
AAR is the first home-based reading program he has stuck with and been okay pushing through (even on the difficult days). We have made so much progress that we dropped our reading tutor and, despite the continued slower pace, I can see a surge of confidence in him and I know that we are approaching reading in a way that will (eventually) stick!
When I asked him for a quote this morning I got this: "It's the best. I highly recommend you try it! It's very fun and it's helping me learn. Most kids think that they don't have good stories for kids who are learning to read, just the old boring stories 🙁" (he asked me to include the frowny face!) "but these stories are really fun and really interesting."
Is AAR for your family?
If you have a dyslexic, dysgraphic or ADHD or struggling reader (for whatever reason) I would say yes. It probably is. If your reader does not fall into any of these categories, I believe AAR is still a very good choice as a reading program, if you feel you need more support than easy reader, read alouds, and your encouragement. For some learners the pace may be too slow, however, I feel this is such a solidly developed program that more likely than not, it will benefit any type of learner. And remember, if it's NOT for you…you have ONE FULL YEAR to return it and get your money back. No questions asked.
How to get started With All About Reading
All About Reading consists of four levels (Levels 1-4), plus a pre-reading program. If you'd like to have a more in-depth look, each level has samples for EVERYTHING.
Each level has a placement test – these review the skills in each level. They include word lists and full stories, plus questions for you to answer. Choose the level you think your child may be at, and run through the test.
When you've found the correct level it's very easy to purchase – simply follow the instructions on the site. If you're starting from scratch you'll need a Reading Interactive Kit (used for all four levels), and for each level you need the Teacher's Manual, Student Packet, and readers.
Once you receive it, simply follow the instructions at the beginning of the Teacher's Manual and you're ready to go!
Final Thoughts
Of all the benefits of AAR, the biggest is my confidence in teaching my son to read. I know that despite the slower rate of our progress, forward is forward and he is learning in a sequential and thorough way that won't leave debilitating gaps down the road. This benefit is closely followed by the fact that my son hasn't completely resisted this program and, despite that it's still his least favorite activity, he is sticking with hit, developing his reading growth mindset, and experiencing the benefits of his hard work.
We have been working with All About Reading for the past 3 months. It has absolutely changed the way we approach reading, even leading us to drop his former reading tutor. We are wrapping up level 1 and have level 2 ready to go. At am no longer shopping reading curriculum or tutors, wondering if something else will work better for my ADHD, potentially dyslexic and/or dysgraphic son. AAR works…for us!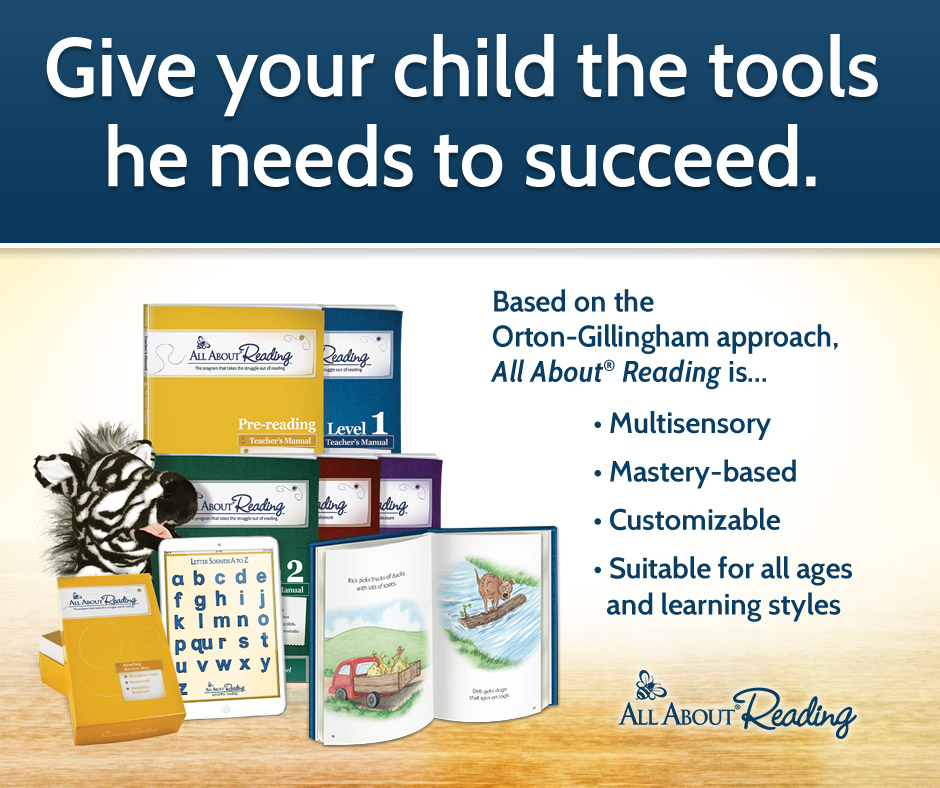 What do you think? Will you try All About Reading? What questions do you have that I might be able to answer?
---
YOU MAY ALSO LIKE
8 Tips for Helping A Struggling Reader
Our Relaxed Homeschool Curriculum
Educational Board Games We Play
11 Family Read Alouds For Elementary Learners And Their Parents
Homeschool Books That Will Change How You Homeschool
How To Start Homeschooling in 2021
7 Types of ADD
Nutrition and ADD
7 Ways I Help My ADHD Son Prepare For Sleep
Your Home Based Learning Road Map